Transfer Cart AGV
High Rating in RELIABILITY and RoI (Return on Investment) with robust and low-maintenance transfer carts that adapt to every need. More than 20 years of experience designing and manufacturing transfer carts for all types of industry.
At Eyher we design and manufacture transfer carts and AGVs with all the control and manoeuvrability options on indoor and outdoor surfaces to transport, lift, load and unload loads from 5 Tm.
General characteristics:
Remote control or AGV
Hydraulic and electric motorization
With connection to electric grid or battery powered (Lead, Lithium) with built-in charger or charging in parking position.
CONTROL
Eyher offers the possibility of remotely directing the transfer carts or that they circulate autonomously (AGV) under different navigation systems: independent or integrated in central control.
01 Automated Guided Vehicle (AGV)
NAVIGATION SYSTEMS
AGV Optical
AGV with wire or magnetic conductor
AGV with GPS for exterior guidance
02 Remote control
By means of remote control and / or pushbutton pendant station as an alternative rescue option.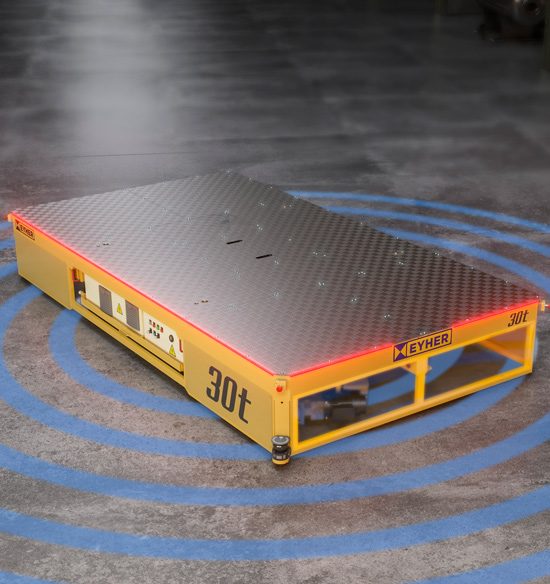 DIRECTION
From rails to omnidirectionality depending on the path to be made
Manoeuvrability is one of the main aspects to take into account when defining the transfer cart. For this we realise a study each need and the path (lay out) to be carried out by the cart / AGV. Both for a straight course, as well as for complex manoeuvres or small turning radii. Both for a rectilinear path, as well as for complex or small turning radii maneuvers. These aspects, together with the dimensions of the load and the required control, lead to the technically most appropriate and economical sufficient choice of the steering system for the transfer cart / AGV.
SURFACE
From industrial ground to outdoor
The type of ground, its grip and sliding, as well as possible obstacles (rails), imperfections, potholes, etc. they influence the choice of the wheel cover and the damping system of the transfer cart / AGV.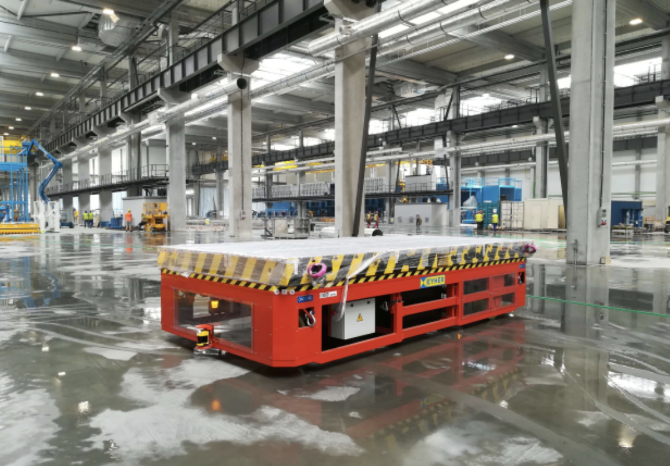 Versatility
We have autonomous, versatile vehicles adapted to the most demanding needs
All kinds of loads
From 5 TN, you set the limit
Tandem
Possibility of working with two synchronized computers
Directive 2006/42 / CE of the European Parliament on machines establishes the technical requirements that machines and their safety components must meet.
The CE marking of machines is the testimony incorporated in the machine in which it certifies that it complies with all Community Directives.

Emergency stop switch
Work lights and sound devices
Bumper
Safety to avoid collisions and accidents.
Working lights and acoustic devices
Security Laser Scanner
Compact equipment that scans the environment and measures distances in protection zones
DIE WAREHOUSE
/ Solutions
Eyher has designed and established a system that will allow the storage and manipulation of dies in an effective and safe way, considering the available space and the best way to install the warehouse and the die flow towards the presses.
Each new car model demands the manufacture of new dies for the presses that print the new sheet and plastic components.
Those new dies must be stored for their use during the time each car model is manufactured, and also to be able to supply spare parts in the future.
Therefore, the printing companies have two problems: the storage and the manipulation of many dies with various weights between 1 t and 50 t.
TRAIN MAINTENANCE PLATFORM >

Low maintenance equipment
We use top brand components

Remote access by EYHERBOX
Access from anywhere through network connection

Preventive Maintenance
Consult us the contract options.
GET IN TOUCH
If you are interested in any of our products, write to us and we will contact you.
We will process your data to answer your query. If you accept, you will receive commercial communications about our services. You can exercise your rights of access, rectification, suppression and opposition, among others, according to our Privacy Policy.